As the temperatures rise during the summer months, dressing for church requires a delicate balance between staying cool and maintaining a respectful and modest appearance. Here are some tips for dressing appropriately for church in the summer: –
Light and Breathable Fabrics | Dressing for Summer Church Services
Opt for clothing made from light and breathable fabrics such as cotton, linen, or chambray. These materials allow air circulation, keeping you cool during warmer weather. Flowy fabrics not only provide comfort but also convey a sense of ease and grace. Shop Clergy Shirts for Mens 
Modest Necklines and Hemlines
While summer attire tends to be more relaxed, it's essential to maintain modesty in your church outfit. Choose tops and dresses with modest necklines and hemlines, ensuring that your clothing aligns with the respectful atmosphere of the church environment.
Sleeve Length Consideration
If the church has a more formal dress code, consider opting for short sleeves or sleeveless tops with wider shoulder coverage. Alternatively, lightweight cardigans or wraps can be added for coverage during the service and removed when outdoors. 
Subdued Colors and Prints
Stick to subdued colors and modest prints for your church attire. While summer often invites bright and bold patterns, choose those that are elegant and not overly flashy. Soft pastels, neutrals, and classic patterns can be both stylish and respectful. Shop Clergy Cassock
Lightweight Accessories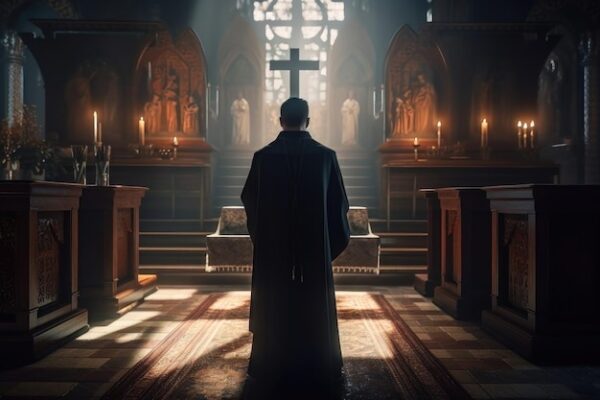 Accessorize thoughtfully with lightweight jewelry and accessories. Opt for dainty necklaces, bracelets, and earrings that complement your outfit without being distracting. Avoid excessive accessories that may be noisy or draw too much attention.
Consider Dress Codes
Different churches may have varying dress codes, so it's advisable to be aware of any specific guidelines. Some places of worship may have more formal requirements, while others may embrace a more casual atmosphere. Shop Clergy Cassock
Sun Protection
If attending an outdoor service or event, consider incorporating sun protection into your outfit. A wide-brimmed hat, sunglasses, and sunscreen can help shield you from the sun's rays while still allowing you to enjoy the service comfortably.
Wrinkle-Resistant Clothing
Choose wrinkle-resistant fabrics to maintain a polished look throughout the service. Summer heat can lead to wrinkles, so selecting clothing that stays crisp and neat can enhance your overall appearance. Shop Clergy Cassock
Closed-Toe Shoes
In many churches, especially those with a more traditional setting, closed-toe shoes are preferred. Sandals, if allowed, should be chosen carefully to ensure they are not too casual. Avoid overly casual footwear like flip-flops unless explicitly permitted.
Respectful Attire for Special Services
For special services or occasions, such as weddings or baptisms, consider slightly more formal attire. A sundress or lightweight suit can strike the right balance between summery and respectful for such events. Shop Clergy Cassock
By keeping these tips in mind, you can navigate the challenge of dressing for church in the summer, staying cool while maintaining a respectful and modest appearance.